Welcome to Devon Transit 053
Quite a bit to be going on with this week with Plymouth Citybus having quite a few changes over the coming week. One thing that has become clear is that some registrations appear to be taking their time to get through VOSA and get reported on their site / N&P. This means that some changes are not fully documented prior the the changes actually happening.
---
Dealtop (Plymouth) Ltd PH1020218 t/a Target Travel
PH1020218 SN DEALTOP (PLYMOUTH) LTD
Section 2.4 – Variation Applications Granted
Director(s): ROBERT JOHN RISK, LEE ROBERT RISK
LANGAGE SCIENCE PARK, WESTERN WOOD WAY, PLYMOUTH, PL7 5BG
New operating centre: TRELAWNE BARN, WEST WAYLAND FARM, POLPERRO ROAD, WEST LOOE, PL13 2JS
New authorisation at this operating centre will be: 1 vehicle(s)
New operating centre: RYLANDS GARAGE, ST. ANNS CHAPEL, GUNNISLAKE, PL18 9HW
New authorisation at this operating centre will be: 1 vehicle(s)
Transport Manager(s): JUSTIN PETER WILCOCK
---

Exeplore Ltd PH2000900
Section 2.1 – New Applications Received
PH2000900 R EXEPLORE LIMITED
Director(s): CHRISTOPHER JOHNS
C/O SAFECAR SECURITY SERVICES, BITTERN ROAD, EXETER, EX2 7LW
Operating Centre: SAFECAR SECURITY SERVICES LTD, BITTERN ROAD,
SOWTON INDUSTRIAL ESTATE, EXETER, EX2 7LW
Authorisation: 2 vehicle(s)
---
First Hampshire & Dorset Ltd PH0006159 t/a First Wessex
First Wessex X51 [PH0006159.416] Dorchester - Bridport
PH0006159/416
Section 3.3 – Applications to Vary Existing Services N&P 2570
FIRST HAMPSHIRE & DORSET LTD,
BUS DEPOT, EMPRESS ROAD, SOUTHAMPTON, SO14 0JW
Operating between Dorchester, South Station
and Bridport Coach Station
given service number X51
effective from 15 January 2017.
To amend Timetable.

On the Monday to Friday timetable for the X51 service, First Dorset is introducing a new service from Dorchester at 2010 which arrives in Bridport at 2047. Also on the weekday timetable, the 1811 service from Dorchester to Bridport will operate five minutes later.
---
Plymouth Citybus PH0000135
Plymouth Citybus 16 PH0000135.001 Royal Parade - Kings Tamerton
PLYMOUTH CITYBUS LTD
MILEHOUSE ROAD, MILEHOUSE, PLYMOUTH, PL3 4AA, GB
PH0000135/1
VOSA Application accepted 5 JAN 2017
EFFECTIVE 26-02-17
ROUTE 16
Vary route and timetable
Plymouth Citybus 20 20A PH0000135.007 Royal Parade - Plympton / Ivybridge
PH0000135/95
Section 3.3 Application to vary existing service N&P 2572
PLYMOUTH CITYBUS LTD,
MILEHOUSE, MILEHOUSE ROAD, PLYMOUTH, PL3 4AA
Operating between Plymouth, Royal Parade
and Plympton/ Ivybridge
given service number 20 / 20A
effective from 15 January 2017.
To amend Route and Timetable.
On Mondays to Fridays certain journeys to operate via Moorland Road instead of Glen Road and St Marys Bridge to avoid afternoon peak congestion. These are the 20A services from Royal Parade at 15.20 and 16.20 to Ivybridge. These journeys will not serve Mudge Way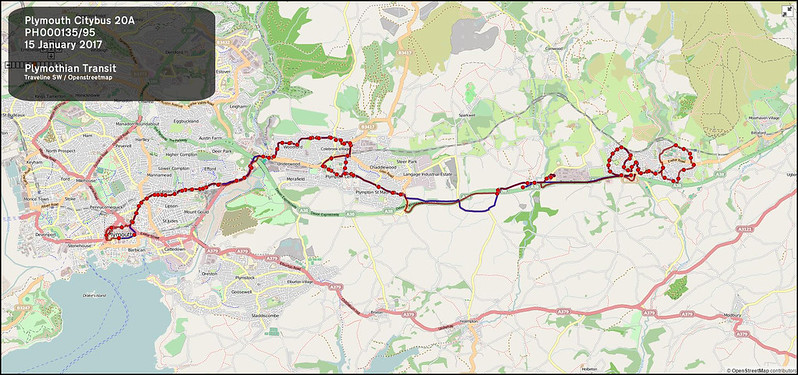 Plymouth Citybus 27 27A 27B PH0000135.146 Royal Parade - Austin Crescent - Derriford / Asda
Revised timetable with overall journey times increased due to start of Derriford Transport Major Scheme
Due to the start date for the major Derriford roadwork scheme being brought forward we have had to make vital changes
Full details have not yet appeared on the full VOSA listings although it is going through
Plymouth Citybus 28 28A 28B PH0000135.005 Royal Parade - Deer Park - Derriford / Mainstone
Revised timetable with overall journey times increased due to start of Derriford Transport Major Scheme
Has not appeared on VOSA yet
Plymouth Citybus 33 PH0000135.148 Royal Parade Keyham Ford
PLYMOUTH CITYBUS LTD
MILEHOUSE ROAD, MILEHOUSE, PLYMOUTH, PL3 4AA, GB
PH0000135/148
VOSA accepted 05-01-2017
Effective 26-02-17
Route 33
Revised route and timetable
PH0000135/7
Section 3.3 Application to vary existing service N&P 2572
PLYMOUTH CITYBUS LTD,
MILEHOUSE, MILEHOUSE ROAD, PLYMOUTH, PL3 4AA
Operating between PLYMOUTH Royal Parade
and SOUTHWAY
given service number 40 / 41
effective from 15 January 2017.
To amend Timetable.
On Mondays to Saturdays all journeys departing from Royal Parade up to and including the 08.20 departure will operate around Southway as a service 40. First 41 journey will be the 08.35 from Royal Parade
Plymouth Citybus 42 42C PH000135.149 Royal Parade - Derriford / Woolwell
PH0000135/149
Section 3.3 Application to vary existing service N&P 2572
PLYMOUTH CITYBUS LTD,
MILEHOUSE, MILEHOUSE ROAD, PLYMOUTH, PL3 4AA
Operating between Plymouth Royal Parade
and Derriford Hospital/Woolwell
given service number 42 / 42C
effective from 15 January 2017.
To amend Route and Timetable.
Route revised within Derriford area to serve new stops at Derriford Hospital Interchange and timetables revised due to start of the Derriford Transport Major Scheme
Plymouth Citybus 50 50A 51 PH0000135.076 Derriford - City - St Budeaux- Holly Park /Derriford